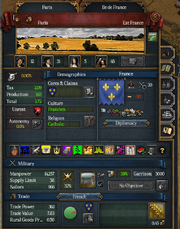 In M&T, the world is divided into continents, subcontinents, regions, and provinces. Provinces are the smallest of these divisions.
Food province, region level.
Culture and religion
Edit
Each province has a primary culture and religion. Provinces that have foreign cultures or do not share the state religion tend to be more rebellious. Province culture will naturally shift over time.
Province Trauma is a measure of the damage taken by a province. It is affected by Plague, famine, looting ..
Ad blocker interference detected!
Wikia is a free-to-use site that makes money from advertising. We have a modified experience for viewers using ad blockers

Wikia is not accessible if you've made further modifications. Remove the custom ad blocker rule(s) and the page will load as expected.